Paphos - 15th to 22nd May 2020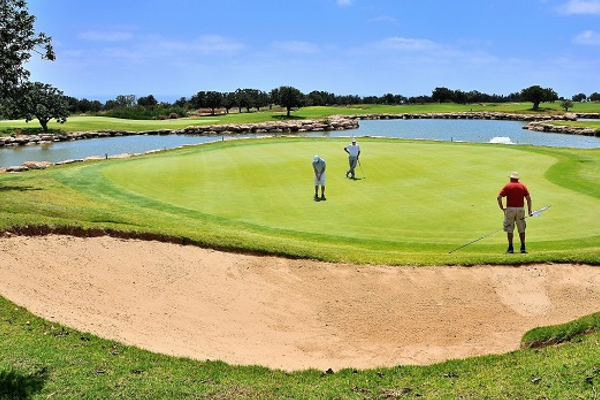 May Trip to Cyprus 2020
4* Athena Beach Hotel, Paphos, Cyprus
15th - 22nd May 2020
PACKAGE INCLUDES:
♦  Return Flights with Ryanair to Paphos
♦  7 Nights in 4* Athena Beach Hotel
♦  Half Board Basis (Breakfast & Evening Meal)
♦  3 Rounds of Golf -
Minthis Hills, Secret Valley and Aphrodite Hills (TBC)
♦  All Transfers Included
Golfer Price: €1195 pps
Constantinou Bros Athena Beach Hotel
Constantinou Bros Athena Beach Hotel is a four star, beachfront hotel in Kato Paphos within easy walking distance from the picturesque harbour, the archaeological sites, the shops and the nightlife. A bus stop is just outside the hotel and taxis are always available. Parking in the hotel car park is free for guests.
The resort is situated 15 km away from the Paphos International Airport and 140 km from Larnaca International Airport. Also within short driving distance are two super golf courses.
All the rooms feature spacious balconies offering beautiful views of the Mediterranean or of the hotel's tranquil gardens, as well as luxury bathrooms featuring bath tub, rain shower and flexible hose shower, Simmons® Luxury Beds and floor to ceiling windows.
Room facilities include among others air conditioning and heating, flat screen LCD satellite TV (26 inch in land view rooms and 32 inch in all other rooms) and radio, fridge, mini bar, hairdryer, scales, make-up/shaving mirror, ironing facilities, safety deposit box as well as tea and coffee making facilities.
The leisure facilities of this hotel include 3 freshwater swimming and 2 paddling pools, a waterslide, indoor pool (heated during the periods 1st November - 31st March), indoor and outdoor Jacuzzis, floodlit tennis courts, a 24-rink indoor and outdoor Bowls Green facilities, mini golf and a children's playground with Kids Club.
In the hotel's Elixir Spa there is a heated pool, a sauna, a steam bath, a fully equipped gym and a hairdressing salon. You can also choose from a good choice of professional massages and body treatments, aromatherapy and other treatments are also available to help relax and rejuvenate.
Enjoy some fine dining at the hotel's restaurants or even a romantic candlelit dinner!
We want to make your stay with us as relaxing as possible, to help erase your fatigue and when you return home we want you to be feeling rejuvenated, fit and as healthy as possible.
Golf Courses to be Confirmed
Aphrodite Hills
All Year Round Golf at Aphrodite Hills, the first ever leisure and golf development of its kind in Cyprus, Aphrodite Hills Golf Resort is home to a magnificent 18-hole championship golf course, dedicated 3-hole Golf Academy and magnificent Clubhouse, designed for golfers of all standards and ages.
Spreading out over 6,289 metres and overlooking the site where Aphrodite, the goddess of love, is said to have emerged from the sea, our golf course is truly a unique location in which to test your skills with friends.
The award-winning golf course was officially opened in 2002 and was designed by the acclaimed architect, Cabell Robinson. Robinson has designed Aphrodite Hills to be the perfect mix of challenging pot bunkers, manicured fairways of lush Bermuda grass and generous tiered greens.
Visually spectacular, the course expands through indigenous olive and carob trees and is built on two plateaux, separated by a dramatic ravine with outstanding views over the Mediterranean. And the staggering 130 metre gorge dividing tees at the 7th hole is an enticing challenge for all lovers of this beautiful game.
Minthis Hills
A beautiful and demanding course that winds its way past a 12th-century monastery with breathtaking views of the Troodos Mountains and beyond, golf at Minthis is a unique and characterful experience. Designed by legendary golf architect Donald Steel in 1994 and renovated by renowned course designers Mackenzie & Ebert, the course is a flawless example of their philosophy that golf courses should fit into the terrain, be in keeping with their setting and focus on the details.
Supplements:
Single Room Supplement: €30 per person per night (Limited Availability)
Upgrade to 1 Week All Inclusive Basis: €TBC
Upgrade to 11 Night Package: €360
Checked Bag 10kg: €40
Checked Bag 20kg: €80
Checked Golf Bag: €60
Discounts:
Non-Golfer Discount: -€200pp
Sean's Thoughts
Perhaps the question I get more often than any other over the years is inquiring about my favourite place. It has varied over the years, of course. I love Thailand, South Africa has been fantastic but certainly at this stage I do think that Cyprus is my favourite destination in the world. It's a little bit further away than Spain but it just has a magic about it that I find wonderful.
The hotel we use, the Athena Beach, is, as it says, located on the beach and the food and the attention to service and the friendliness of staff there is quite outstanding. You are within walking distance, a genuine 15 minutes stroll, to the edge of the harbour of Paphos with all of its bars restaurants and life and also from the front of the hotel you can walk out, if you decide to have lunch instead of dinner at the hotel, and about half a dozen terrific restaurants are all within a 10 minute stroll.
Add to that the fact that the weather has always been great for all of our trips in both Spring and Autumn.
It is a little more expensive than other places but nobody ever leaves it thinking they haven't had great value or accept that it is well worth it.
One of the reasons it is more expensive, certainly than Cadiz, is that we play three different golf courses, all of whom require a coach transfer and quite frankly the green fees are significantly more expensive than they are in Cadiz so the golf package really comes in at close to €300 which is a lot and I do accept this but again the quality of the golf courses, the way they are kept and maintained is quite, quite outstanding.
Our basic trip this year is from the 15th to the 22nd of May which is Friday to Friday but the option, of course, is available to go from the previous Monday making an 11 day trip out of it, which is what probably about half the people did last year.
A lot has been made of the fact that the flight from Dublin to Paphos is 4 and a half hours and in fact can be 5 hours going back, but there are a couple of things that need to be remembered about that. First of all, Ryanair only use their new aircraft on this particular flight and the legroom is significantly better than on the older model aircraft and, as distinct from Cadiz, when you get to the airport you are literally less than 15-minutes from the from the hotel so, all in all, the overall journey from airport to hotel is probably more or less exactly the same as Cadiz and as I've said before, well worth the journey.
Many people have asked about entertainment, there is of course, entertainment in the hotel at a very high level every night but we do love our own and I would be delighted to invite Mick Cummins, whom everybody loves, on the trip but we can only do that if the numbers justify it, and again, this can only be done if you make your reservations early.
There has been a lot of talk about this trip, and I have no doubt that people that were on it last year will be determined to go back and of course they have been passing the word on to other people about how good it is, so we recommend highly as we always do that you book early, it does make life so much easier for everybody. The cost of the trip for 1 week is €1195 for half board which is breakfast and a choice of either dinner or lunch. We have negotiated a special deal with the hotel that you can increase that to all-inclusive at a cost of €25 a day. When you consider that this includes lunch and premium alcohol all day, it is actually a heck of a deal so I would recommend it. We have a trip in Paphos at the moment as I write this, and probably about 70% of the people have opted for the extra to make it all inclusive, but it is optional and entirely up to yourself.
I am really looking forward to this and I repeat, my favourite destination so book early and hopefully we can see Mick Cummins!
TO BOOK PLEASE FILL IN THE BOOKING FORM BELOW.
ALTERNATIVELY YOU CAN CALL OUR OFFICE ON

01 833 6935

OR EMAIL PAUL

paul@killestertravel.com
Non-refundable deposit of €200 required at time of booking.
Online Booking Form Currently in development. To book call paul on 01 833 6935 or email paul@killestertravel.com