Morrocco - 3rd to 10th Feb 2019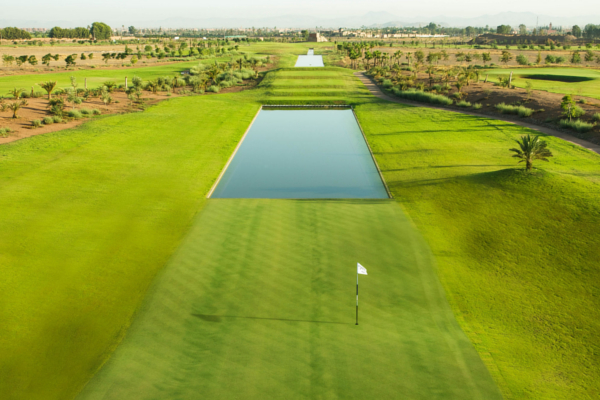 MARRAKECH 2019
5* Be Live Hotel, Marrakech, Morrocco
3rd - 10th March 2019
PACKAGE INCLUDES:
♦  Return Flights with Ryanair to Marrakech
♦  7 Nights in 5* Be Live Collection Hotel
♦  All Inclusive Basis (All Meals & Drinks)
♦  3 Rounds of Golf -
Noria, Assoufid and PalmGolf Ourika
♦  All Transfers Included
Early Booking - Golfer Price: €1125 pps
BOOK BEFORE NOVEMBER 30th TO AVAIL OF OUR EARLY BOOKING PRICE OF €1125 pps. BOOKING PRICE THEREAFTER €1195 pps
5 Star Be Live Collection Marrakech Adults Only All inclusive Hotel
Featuring a seasonal outdoor swimming pools one of which is heated with a poolbar, Be Live Collection Marrakech Adults Only is situated in Marrakech, 7 km from Palais de La Bahia and features free WiFi.
The hotel provides a garden and a terrace. The hotel also offers free WiFi as well as a free shuttle service.
Rooms are fitted with a wardrobe, private balconies and flat-screen TVs with satellite channels.
A buffet breakfast can be enjoyed in the breakfast area. The hotel also offers a free shuttle service to and from the city centre.
Round-the-clock assistance is available at the reception, where staff speak English, Spanish and French. The nearest airport is Marrakech-Menara Airport, 11 km from the accommodation. 
Noria Golf Club
 Noria Golf Club at Domaine de Noria in Marrakech, Morocco, is a par-72, eighteen-hole championship golf course that measures 6,589 metres (7,206 yards) from the professional tees.  Amateurs will find enjoyment and challenge at one of the four alternate lengths that range from 4,579 metres (5,008 yards) up to 6,116 metres (6.689 yards).  The two par-36, nine-hole loops, which are very well balanced in terms of length and difficulty, wind through olive orchards, lavender fields and desert landscapes before making a dynamic, parallel finish along a formal reflecting pool with the snow-capped Atlas Mountains and a dramatic, beautiful clubhouse providing a stunning backdrop.
The central feature is a magnificent traditional "basin" that splits the 9th and 18th holes and stretches away into the distance from the clubhouse to the far side of the site.
From a golf course architectural perspective, Noria Golf Club is easily the most unique golf course that Hills & Forrest have ever designed.  The concept of blending three different landscapes (orchards and lavender fields, the desert and a formal "oasis") was challenging, yet provided the basis for a golf experience filled with wonderful variety for the player.  Added to this basic framework were lots of interesting traditional Moroccan features ranging from reflecting pools, cascades and basins to architectural elements such as bell towers and observation structures to desert oued (wadi), khettara, seguia (irrigation channels) and even the namesake noria.
The noria is a traditional Moroccan landscape feature and has been incorporated into the golf course design on the 15th hole, hence the name, Noria Golf Club
Assoufid Golf Club
Set against the backdrop of the snow-capped Atlas Mountains, Assoufid Golf Club's 18-hole, par-72 golf course winds its way through a unique, naturally undulating desert landscape. Located 10 km from Marrakech's Medina – a UNESCO World Heritage site, Assoufid Golf Club provides golfers with an exceptional golfing experience that is excitingly diverse and challenging.
As his first golf course design project, Scottish designer and former European Tour player, Niall Cameron, had the vision to create a desert-style golf course that would look and feel as natural and as integrated into the existing landscape as possible, while maximizing the beautiful views of North Africa's Atlas Mountains to the south.
PalmGolf Ourika
Designed by the Canadian duo of Neil Haworth (Nelson & Haworth) and Stephane Talbot (Talbot Golf Design), PalmGolf Ourika is located in the south of Marrakech with a backdrop of stunning views of the snow peak Atlas Mountains.
The 18 hole-Par 71 championship course stretches to almost 7100 yards from the professional tees that were designed to accommodate all levels of golfers to enjoy the challenge when playing at PalmGolf Ourika.
The design team inherited a flat piece of land stretching over 73 Hectares-180 acres and turned it into a desert-style course with generous rolling fairways guarded by large sandy waste areas weaving around 46 bunkers and 6 lakes. The landscape is enhanced by beautiful Olive, Palm and Cypress trees creating a wonderful Resort Club to be enjoyed by all.
The best varieties of grasses were researched & implemented in building the course. The greens feature Penn A-1 Bent grass and the Tees, Fairways and Rough feature Riviera Bermuda grass.
The golf course is the first cart-only golf club in Morocco and features a global positioning system (GPS) to assist golfers with their club selection and strategy as well as the ability to monitor speed of play for all. Full concrete paths were built accordingly throughout the course offering play 365 days of the year.
PalmGolf Ourika features premium Practice balls from Taylor Made and unlimited use of the driving range prior or post your round of golf.
PalmGolf Ourika is managed by Troon, experts in upscale golf course management who also manages its sister courses, PalmGolf Palmeraie and PalmGolf Casablanca.
The club forms part of the Jardins de l'Atlas real estate project built by the Palmeraie Development Group whose Portfolio includes the Palmeraie Palace, the Hotel du Golf, the Pavillon du Golf, Palm Holidays among others.
Morrocco Marrakech Golf Trip
We want to introduce you to another wonderful golf destination in 2019 that many of you may not have visited. Marrakech Morrocco.
We have just had a large golf group there in September 2019 and it was an outstanding success
The Golf courses are of excellent standard, great design, great greens and wonderful service pre and post golf. The Club houses are all top quality. In the Marrakech region in the last 10 years 8 golf courses have been completed making it an outstanding golf resort. We have had 2 inspection trips to the numerous golf courses and we will play 3 Rounds on Norria, Assoufid and PalmGolf Ourika
The international airport is only 20 mins outside the city and hotels, Golf courses are all within 15 – 20 mins transfers ensuring very little time is wasted. We have an excellent ground handler in situ to look after our groups .
 Marrakech is a different world and with a flight time of just over 3 hours you really feel that you have travelled much farther as its such a different experience. The central areas of Marrakech with its extravagant and atmospheric Medinah and Souk markets are a must visit. Full of everything you can imagine from spice stalls leather goods, rugs, food, snake charmers and so and so.
A visit to a beautiful Riaad (Marrakech luxury Townhouse villa) and experience the Hammam Massage is a wonderful experience.  
The hotels are also of an excellent standard we will be using the 5* Be Live and its on an ALL INCLUSIVE basis. Food is a mixture of European and Morrocan so lost of choices. The local beer is very good along with European brands and they have full range of brand alcoholic spirits etc.
 The hotel has wonderful pool areas to relax and enjoy the sunshine . Average February weather temperatures are in the late teens and can get over 20 degrees.
Supplements:
Single Room Supplement: €210 (Limited Availability)
Checked Bag 20kg: €80
Checked Golf Bag: €60
Golf Club rental - Quote on Request
Buggies - Quote on Request
TO BOOK PLEASE FILL IN THE BOOKING FORM BELOW. NON-REFUNDABLE DEPOSIT OF €200 REQUIRED AT TIME OF BOOKING.
ALTERNATIVELY YOU CAN CALL OUR OFFICE ON

01 833 6935

OR EMAIL PAUL

paul@killestertravel.com
Marrakech in February Booking Form