PLAYA GRANADA, APRIL 2020
Easter Week - 8th to 15th Apr 2020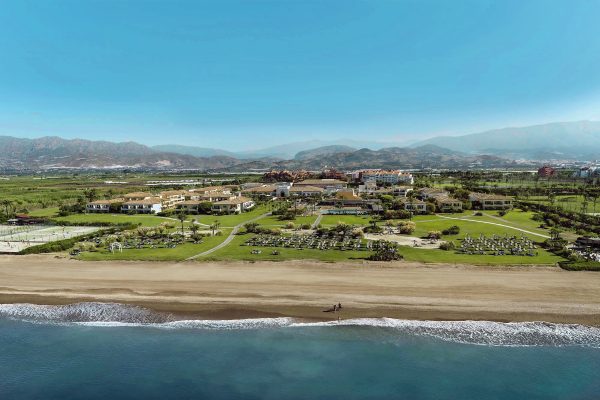 PLAYA GRANADA, APRIL 2020
4* Playa Granada Resort & Spa, Motril
8th - 15th April 2020
PACKAGE INCLUDES:
♦  Return Flights with Ryanair to Malaga
♦  7 Nights in 4* Playa Granada Resort & Spa
♦  All Inclusive Basis (All Meals & Drinks)
♦  3 Rounds of Golf on resort course
♦  All Transfers Included
Golfer Price: €1095 pps
Playa Granada Club Resort
This 4-star beachfront resort is located in Motril. Free amenities include 6 tennis courts, outdoor pools and evening entertainment. Sierra Nevada Ski Resort is 95 Km away from the property.
Playa Granada Club Resort has spacious, air-conditioned rooms with a private balcony or terrace. A hairdryer is provided in every bathroom.
Guests have access to the Granada's WellFit Spa with indoor pools, sauna, hamman and hot tub for a surcharge. Other facilities include a fitness centre.
Varied buffets meals are available at the Playa Granada Club Resort's restaurant which features a sun terrace. Guests can also enjoy the La Bodega á la carte restaurant which offers Mediterranean cuisine, and a wide variety of Spanish wines.
Leisure facilities at the Playa Granada Club Resort include a big indoor theatre and a nightclub. A variety of entertainment activities are available for children and adults. The attractions of Granada are 70 kilometres away.
Supplements:
Single Occupancy Supplement: €25 per night (Limited Availability)
Checked Bag 10kg: €40
Checked Bag 20kg: €80
Checked Golf Bag: €60
10 Night Trip available on request - Call for details
Discounts:
Non-Golfer Discount: - €150pp
Sean's Thoughts
This is a little gem that I found last year: an unusual place, a resort on the beach, beautiful pool, quite superb rooms, very spacious, and the hotel is laid out in a villa type system. There are no lifts and all rooms are either on the ground floor or the first floor.
It is situated about 1 hour from Malaga Airport, halfway between Malaga and the town of Granada itself.
We had 2 groups there last year who reckoned it was one of the best places they had ever been to and it does represent outstanding value. The trip this year is at Easter and the cost including 3 rounds of golf is €995 pps. (Early offer). When you consider that this is Easter and the programme again is all-inclusive, this really is a quite fabulous deal.
The one thing we do have to emphasise is that airline seats from Dublin to Malaga do go sky-high in price the longer you wait so this is something that if you fancy it, I recommend booking straight away because we will not be able to hold that particular price for a long time.
It is 10 minutes away from 2 beautiful towns, Motril and Salobrena. I was particularly taken with Salobrena: loads of cafes, bars, restaurants all along the seafront. Yes I know your deal in Playa Granada is all-inclusive but everybody, I think, likes to get away for one of the evenings to sample the nearby town.
This is fabulous value because the hotel has been recently refurbished and they had given us a very good deal for their opening last year and are maintaining this deal for us again for 2020. I cannot recommend this highly enough as being an outstanding value trip.
TO BOOK PLEASE FILL IN THE BOOKING FORM BELOW. NON-REFUNDABLE DEPOSIT OF €200 REQUIRED AT TIME OF BOOKING.
ALTERNATIVELY YOU CAN CALL OUR OFFICE ON

01 833 6935

OR EMAIL PAUL

paul@killestertravel.com
Booking form currently in development. To book call our office on 01 833 6935