Corfu, Greece - 17th to 24th May 2022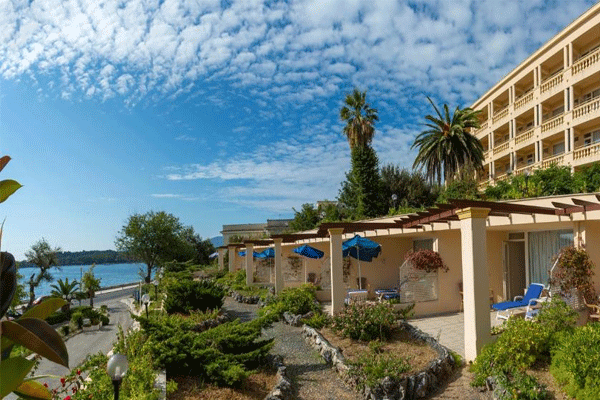 Corfu in May 2022
4* Corfu Palace Hotel, Corfu, Greece
17th - 24th May 2022
PACKAGE INCLUDES:
♦  Return Flights
♦  7 Nights in 4* Corfu Palace Hotel
♦  Half Board Basis
♦  3 Rounds of Golf
♦  All Transfers Included
Golfer Price: €995 pps
*Packages exclude airline carriage of golf bags and checked luggage but can be added for a supplement*
Corfu Palace Hotel
Overlooking Garitsa Bay, the 5-star Corfu Palace offers a thalasotherapy spa centre, an outdoor pool and fine dining. All elegant rooms feature Ionian Sea views. Guests can challenge their luck at the hotel's casino. WiFi is offered throughout.
Hotel Corfu Palace features rooms with a marble bathroom and private balcony or terrace. Room facilities include air conditioning, a satellite TV and hairdryer. 24-hour room service is available.
A plentiful buffet breakfast is served at the main restaurant, furnished with Louis XV-style chairs. The a lacarte Scheria Restaurant proposes international menus. Guests can enjoy a drink at one of the 2 indoor bars or at the Café Del Mare poolside bar.
Corfu Palace is ideally situated a 10-minute walk from the centre of Corfu town. The island's airport is 1 km away.
Corfu Golf Club
The beautiful golf course of Corfu has been characterized by many as one of the best hidden secrets in Europe. The Corfu Golf Club course, located only 14km away from Corfu town, was designed by the famous Swiss architect Donald Harradine, who combined the natural beauty of the Ropa Valley with his own interventions in a harmonious way, to create a course pleasant for both advanced and beginner players.
Today, it is a magical place with tree groves around the fairways, ponds, streams and a background of the surrounding hills. It is a habitat filled with animals and birds (Common Kingfisher, Ardeidae, Lutra lutra, fish). In front of the 1st tee there flows the river of Navsica, the beautiful Corfiot princess who rescued Odysseus when he shipwrecked at its mouth, a few meters away, at Ermones beach. Golf can be played there throughout the year, as the winter is mild. There are three sets of tees for all categories of players. The course is excellent and easy to walk while every hole offers endless variety as well as a challenge. The course is open 7 days a week.
Supplements:
Single Room Supplement: €30 per night (Limited Availability)
Checked Bag 20kg: €70
Checked Golf Bag: €80
Golf Club rental - Quote on Request
Buggies - Quote on Request
Sean Skehan's Thoughts:
In the distant past, my first venture into golf trips was not Spain or Portugal but Corfu.
Just the one golf course but it truly is a beauty!
We have had wonderful times on this Greek island over the years and I can't wait to get back.
The reason for not going in recent years is very simple, they just didn't have enough buggies for our rather ageing group. However, the course is now owned by the Corfu Holiday Palace and there now are plenty of buggies and a lovely hotel.
Near to the airport and Corfu town our package is really super value only created because the hotel owns the golf course.
I really look forward to renewing memories and I hope you will join me.
You won't be disappointed - it is the value trip of the year!

TO SECURE YOUR PLACE ON THIS TRIP, SIMPLY COMPLETE THE BOOKING FORM BELOW AND PAY YOUR BOOKING DEPOSIT ONLINE
ALTERNATIVELY YOU CAN CALL OUR OFFICE ON 01 833 6935 OR EMAIL PAUL paul@killestertravel.com
Non-refundable deposit of €200 required at time of booking.