Casa De Campo - All Inclusive Trip
20th June 2020 - 10 Night Trip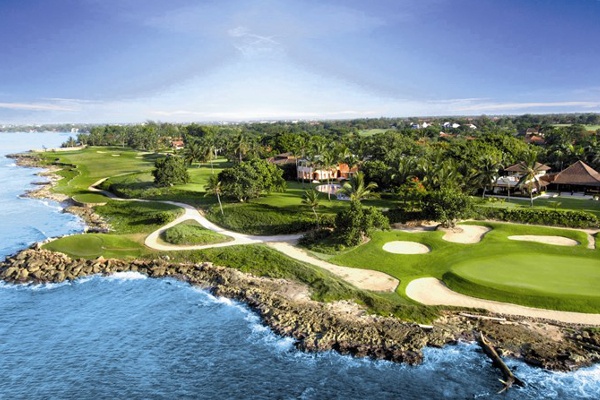 CASA DE CAMPO
FABULOUS 5 STAR HOLIDAY
10 Night All-Inclusive Holiday to Casa de Campo
20th June 2020
PACKAGE INCLUDES:
♦  Return Flights Dublin to Punta Cana Via Philadelphia
♦  Airport Transfers
♦  Airport Transfers Included
♦  10 Nights in Fabulous 5 Star Hotel at Casa de Campo Resort
♦  All Meals (Breakfast, Lunch & Evening Meal)
♦  All Drinks (Alcoholic & Non Alcoholic)
♦  6 Rounds of Golf
(2 x Teeth of The Dog, 2 x The Links & 2 x Dye Fore)
Golfer: €3250 pps Non-Golfer : €2850 pps
Package Includes
Return Flights to Punta Cana via Philadelphia
Airport Transfers
10 Nights in 5* Hotel at Casa de Campo Resort
(Superior Casita Room)
All Inclusive Basis
(All Meals and Drinks at 6 different a la carte restaurants)
6 Rounds of Golf
(Teeth of the Dog x 2, The Links x 2 & Dye Fore x 2)
Buggies Included
Please Note: Price based per person sharing – If single occupancy required an additional supplement will apply.
Price quoted applies to first 30 places
Early booking is advised as airfare may fluctuate after this.
Single occupancy will incur a supplement of €900pp
*We will have another trip in October 2020 - Exact price will be announced when airline prices are released.
DOMINICAN REPUBLIC LUXURY GOLF RESORT
The most exclusive Resort in the Caribbean.
Since it opened in La Romana almost 50 years ago as the first resort in the Dominican Republic, Casa de Campo Resort & Villas has been a favorite luxury destination for discerning travelers and celebrities the world over. Known as the best golf resort, the 3 Pete Dye golf courses include Teeth of the Dog, which is the #1 ranked course in the Caribbean.
The activities are all world class — 7 outstanding restaurants including the stunning new Minitas Beach Club, a Marina, Equestrian Center featuring Polo, Shooting Course, great shopping and 3 private pristine white sand beaches.
I fell in love then with the area and in particular with the Teeth of the Dog which I described then and continue to describe as my favourite golf course in the world.
I don't necessarily think that is the "BEST" but in terms of beauty, playability and condition it is quite, quite, quite outstanding. The designer Pete Dye has said that he only designed about 20% of it, the rest was given to him by nature. It features the Caribbean everywhere of course but in particular on the front nine you have the Caribbean on your left and on the back nine it is on your right. So essentially there is no bailout area.
At the time the Dollar was pretty weak so it was within our compass but subsequently Casa de Campo became even more exclusive, the Punt and the Euro faded away against the Dollar and literally the place was outside our budget. What has now happened is a major change of heart in Casa de Campo.
They have spent 15 million on renovations bringing everything up-to-date, they have realised that there is great competition in the Dominican Republic for golfing business, it is in fact outstanding in terms of quality golf courses and they have come up to one particular travel agent in Ireland, us, with an early booking offer which to me is probably the best value I have come across in my almost fifty years of organising golf holidays.
The deal in Casa de Campo, which I will be organising both in June and October in 2020 is as follows: for a price of approximately €3,250 depending on flights (it might be a little over a little less) you will get
1. Flight to Punta Cana
2. 45 minute transfer
3. 10 nights sharing in the 5-star hotel at Casa de Campo
4. Six rounds of golf including buggy – 2 at Teeth of the Dog, 2 at Dye Fore and 2 at the Links.
Before Dye Fore was set up about 20 years ago, I used to describe the links as the best course you could play if it wasn't the underdog as is where to the Teeth of the Dog - all three are the ultimate golfing experience.
5. The deal is all inclusive in a five-star resort, this is quite astounding – of course this includes alcoholic beverages everywhere and rather than the normal all-inclusive which gives you your buffet dinner, here you have the choice of 6 different restaurants throughout the complex and you get a la carte dining.
These restaurants vary from Mexican to Italian to the hotel restaurant to a terrific fish restaurant on the marina
The complex is a pretty big one but you do get, as part of your deal, a buggy to drive around (to take you to the marina, to the beach and what have you).
I hope I have got the message across that this is something very exceptional, it is an absolute top quality product that we can get.
Can I finally emphasize that it is given to me as an "Early booking offer". We must book it within the next couple of months and even more important than that, every minute that people delay in booking means there is the potential of the airfare changing. The airfare is volatile but as of now the entire package will come in just over €3,000.
At the moment the hotel price will not change unless the dollar fluctuates an awful lot but the airfare could.
I know at least 4 or 5 regulars who would be interested in business class and the business class supplement would be about €2000. Again, I look forward to hearing from you. This is something that I will be dealing with myself so any queries you do have please do come straight back to me.
Sean Skehan
CALL 01 8336935 OR EMAIL laura@killestertravel.com
Non-refundable deposit of €500 required at time of booking