September Entertainment Week 1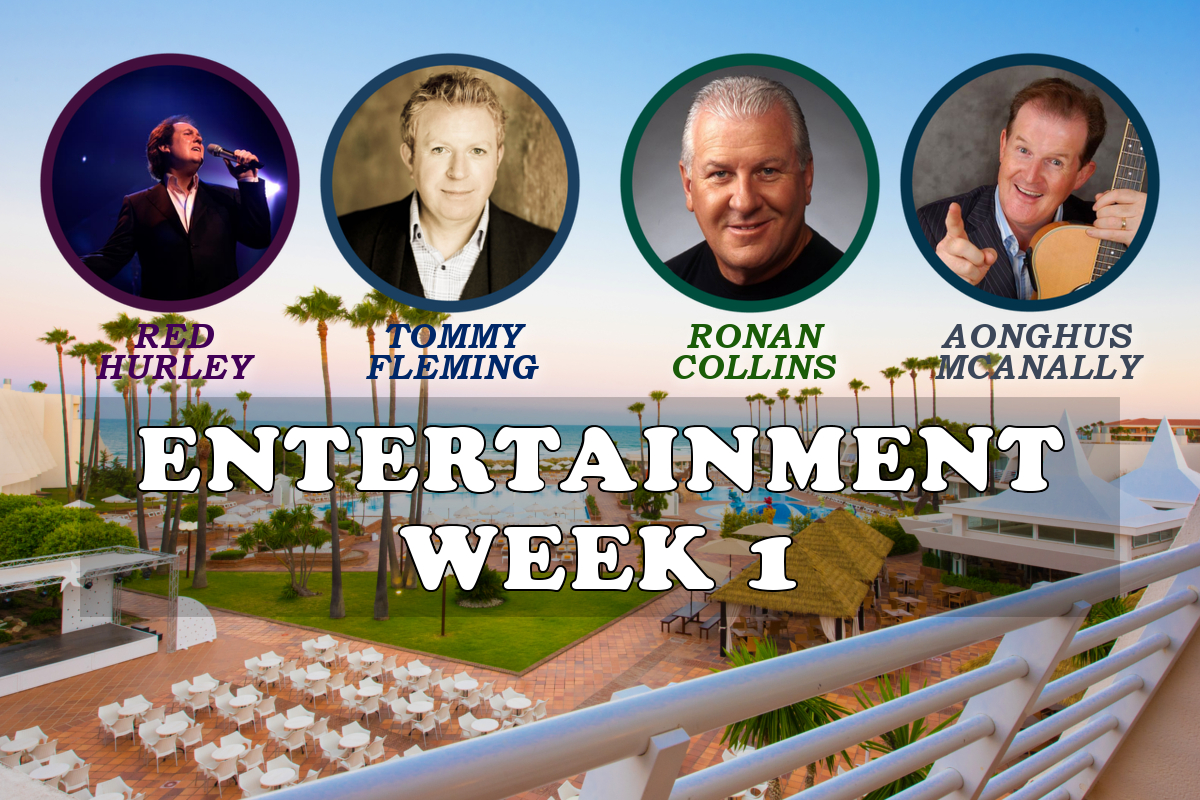 ENTERTAINMENT TRIP 2019
Cadiz, Spain
4* Iberostar Royal Andalus Hotel
17th - 24th September 2019
PACKAGE INCLUDES:
♦  Return Flights with Ryanair to Seville
♦  All Transfers Included
♦  7 Nights in 4* Iberostar Royal Andalus Hotel
♦  All Inclusive Basis (Meals & Drinks)
♦  Entertainment
Price: €1095 pps
Price Including Golf: €1245 pps
*Packages exclude airline carriage of golf bags and checked luggage but can be added for a supplement*
Package Details
Package Includes Return Flights to Seville, All Transfers, 7 Nights in Iberostar Royal Andalus Hotel on an all inclusive basis (All meals - Breakfast, Lunch & Dinner. All Drinks - Alcoholic & Non-Alcoholic) and Great Entertainment throughout. 3 Rounds of Golf on the beautiful Novo Sancti Petri Golf Course designed by the indomitable Seve Ballesteros can also be added to your holiday.
Price based per person sharing on on an all inclusive basis. If single occupancy is required an additional supplement will apply.
Iberostar Royal Andalus Hotel
This property is set in an idyllic location by the beach. Iberostar Royal Andalus offers amazing sea views from its setting on La Barrosa Beach. It has rooms with balconies, 3 outdoor swimming pools, golf courses, and extensive leisure facilities.
The Andalus' air-conditioned rooms feature simple, bright décor. Each has satellite TV, and a minibar can be requested with extra charges. WiFi is provided for free.
The hotel includes 3 restaurants. Al Andalus offers daily buffet, Manolete is open only in high season and serves á la carte dishes, and Sea Soul offers lunch in summer months.
The hotel's spa, available for a for a surcharge, includes a sauna, Turkish bath, hydrotherapy pool, and hot tub. There are also sensation showers and a chill-out area for relaxation. There is an adults-only heated pool available for an extra charge.
The golf course is just 250 m away and there is a tennis court 500 m from the property. 
Guests praise Iberostar Royal Andalus for its superb service. According to TripAdvisor, the IBEROSTAR Royal Andalus is ranked as one of the top five all inclusive hotels in Spain and one of the top 10 in Europe.
Iberostar Royal Andalus Hotel Map
Entertainer Details
Entertainers joining us on the first week of our Entertainment Trips will include:
Aonghus McAnally
Ronan Collins
Red Hurley
Tommy Fleming
Further Details
September entertainment and Hall of Fame trips
Essentially this is the big fortnight and the two trips blend into one another and we have entertainment throughout the fortnight. Our dates next year are Tuesday 17th of September and Tuesday the 24th and you will, as well as that of course, have the option (which a number of people have expressed interest in) travelling out on Saturday the 14th and returning on the 24th or alternatively going on the 21st and coming back on the 1st making an 11 day trip out of it.
There really is no discussion about the choice of venue, there is no doubt in my mind that all things being considered the Iberostar Royal Andalus with this superb food, all inclusive plans, golf across the road and the Magnificent beach, really cannot be surpassed. we have tried to keep the price as low possibly can while continuing to give value for money but they do go up and we are forced to increase the price to €1245 for a 7 day trip in 2019 - Remember, it has been €1195 for the past 3 years. Basic cost of the trip is €1245pps - any extension is €100 per day all inclusive. Single supplement €210 per week. Discount for Non golfer €150.
Add 3 Rounds of Golf for just €150 per person
Royal Novo Sancti Petri Golf Club
The IBEROSTAR Real Novo Sancti Petri Golf Club, opened in 1990, was the first golf course in Spain designed by the legendary Severiano Ballesteros. Currently, the complex boasts two courses with a total of 36 holes (two par 72 rounds) whose challenging design is adapted to the characteristics of the games of both professionals and fans. The numerous water hazards and the native flora – added to the sea breeze and spectacular views of the ocean that can be enjoyed on some holes – make the IBEROSTAR Real Novo Sancti Petri Golf Club one of Europe´s most attractive courses. Proof of this lies in the fact that, since its creation, it has hosted countless tournaments of all levels. Furthermore, the golf club is situated just 250 metres from the IBEROSTAR Royal Andalus and IBEROSTAR Andalucía Playa, both of them luxurious 4 and 5-star hotels with a modern spa and a broad offer of gastronomy and leisure.
Course A: Mar y Pinos, Par 72
The front nine offers vast fairways bordered with palm trees and various water hazards which come into play. The famous green on hole 6 has spectacular views right over La Barrosa beach. The back nine is in itself a complex course with pine trees providing challenging greens approach shots.
Course B: Centro, Par 72
Severiano Ballesteros has carried on his name with his signature in six par 3s, six par 4s, six par 5s and an S-shaped bunker on the 18th hole. This round offers vast fairways bordered by the pine forest and holes 10 to 13 stretch out over the promontory with panoramic views of the Atlantic Ocean.
Supplements:
Single Room Supplement: €210 (Limited Availability)
Checked Bag 20kg: €80 (Price at time of Booking)
Checked Golf Bag: €60 (Price at time of Booking)
Golf Club rental - Quote on Request
Buggies - Quote on Request
Sea View / Side Sea View Room - Quote on Request (Limited Availability)
THIS PACKAGE IS NOW CURRENTLY SOLD OUT. WE STILL HAVE AVAILABILITY ON OUR SECOND WEEK. FOR DETAILS CLICK HERE
TO BOOK PLEASE FILL IN THE BOOKING FORM BELOW. NON-REFUNDABLE DEPOSIT OF €200 PER PERSON REQUIRED AT TIME OF BOOKING.
ALTERNATIVELY YOU CAN CALL OUR OFFICE ON

01 833 6935

OR EMAIL PAUL

paul@killestertravel.com
Autumn Entertainment Week 1. 17th to 24th Sept
Online bookings are currently closed for this trip. To book please call our office on 01 833 6935