AGUILAS - 31st March to 7th April 2018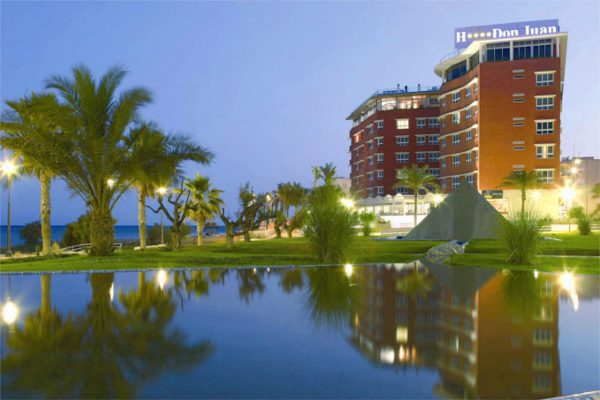 Easter Trip 2018
Aguilas, Murcia, Spain
4* Hotel Puerto Juan Montiel
31st March - 7th April 2018
PACKAGE INCLUDES:
♦  Return Flights with Ryanair to Murcia
♦  7 Nights in 4* Hotel Puerto Juan Montiel
♦  Half Board Basis (Breakfast & Lunch or Dinner)
♦  3 Rounds of Golf at Aguilon and Lorca Golf Clubs
♦  All Transfers Included
Golfer Price: €795 pps
*Price excludes golf bags and checked luggage but can be added to your booking for a supplement*
Hotel Puerto Juan Montiel
This property is 2 minutes walk from the beach. Hotel Puerto Juan Montiel Spa & Base Nautica is situated opposite Águila's marina and the Mediterranean Sea. 
There is direct access from the Hotel Puerto Juan Montiel Spa to 2 beaches and to Águila's seafront promenade. Guests can enjoy special rates at the Juan Montiel Marina, which is situated next to the hotel.
The Puerto Juan Montiel Spa & Base Nautica has a 1,000m² spa centre, available for a surcharge. A thermal circuit and a range of treatments are available here. These include anti-stress, infra-red and chocolate therapies, as well as beauty treatments.
The hotel restaurant offers buffet meals with show cooking, a pub and a cafeteria.
The rooms at Hotel Puerto Juan Montiel Spa & Base Nautica feature free internet access and satellite TV. Each one comes with a safe and a private bathroom. 
Aguilon
Aguilon Golf course is located near Pulpi, in Almeria (East Andalusia). The course design is incredibly spectacular and something far out of the ordinary with more than 100 bunkers, 6 big lakes and a number of natural ravines which all together makes playing the course an unforgettable experience.
With the Aguilon Mountains as a back drop and the breathtaking views of Pulpi Bay and the challenging design with unique golf holes that players of all levels are guaranteed to remember, this is probably the hottest newcomer among Spanish courses.
The course was designed by Global Golf, a company experience in golf design and construction having been involved with 18 other courses throughout Spain from Madrid down to Cadiz and across to the Canary Islands.
Lorca
The 18 hole golf course, par 71, designed by Dave Thomas has extensive, undulating greens and strategically placed bunkers which provide entertainment and excitement at every turn, with pleasant surprises awaiting the golfer at every hole. Since the official opening day, this golf course has hosted several tournaments, strengthening its position as one of the favorites for professionals and amateurs alike and has also received wide news coverage by the most important regional and national mass media. 
The course is an 18 hole par 71, with 9 par 4's, 5 par 3's, and 4 par 5's. The distances are 5756 metres (6294 yards) from the White tees, and 5093 metres (5569 yards) from the Yellow's. The signature hole, although there are many, is probably the par 5 14th where the green sits above a ravine.
Sean's Thoughts
The hotel in Aguilas and the golf courses nearby a little gems in the very south east corner of Spain just on the verge of Almeria. The weather here is always perfect and this is just one of the latest developments in Spain that my research has found to be absolutely ideal for people.
The hotel, Juan Montiel, is a good solid four-star, extremely friendly and run and owned by the family in the person of the daughter Olga, a lovely welcoming lady. Situated on a marina and within strolling distance of the town which has loads of restaurants.
The food in the hotel I found absolutely excellent but one of the very good arrangements is from my point of view, is that they do allow you to take lunch instead of dinner which means that of course it is possible to have lunch and at night stroll down to town and enjoy some of the local restaurant and the hotel have negotiated discounts.
We will be playing two golf courses Aguilon and Lorca and the first one is absolutely outstanding. It is in my view fit for anything and beautifully laid out and with five different teeing off points it will be good for everyone.
I think this venue is a real find and at the price of €795 it is outstanding value.
Sean Skehan
Supplements:
Single Room Supplement: €175 (Limited Availability)
Checked Bag 20kg: €80 (Price at time of Booking)
Checked Golf Bag: €60 (Price at time of Booking)
Golf Club rental - Quote on Request
Buggies - Quote on Request
TO BOOK PLEASE FILL IN THE ENQUIRY SHEET BELOW AND WE WILL GET BACK TO YOU AS SOON AS POSSIBLE.
ALTERNATIVELY YOU CAN CALL OUR OFFICE ON

01 833 6935

OR EMAIL PAUL

paul@killestertravel.com
Aguilas In October Enquiry